Menangis?
Why..?
I AM happy, I'm sooo happy cause life has been good, God is always good!
I'm so thankful that I'm so loved by my loved ones around me... tears of joy perhaps?
But I actually do feel sad when I think of my friends I used to know so well...
We laughed, had fun, enjoyed each other's company... now there are just spaces in between us.
Or there's just something in my life which is just really... missing?
I dunno lar, just emo I guess.
Anyways, sighs... the jobs I've applied the past week still haven't call me back.
Sniff... Tak suka aku kot. Heck care lar.
I just applied in WH yesterday [where everyone is beautiful, lol],
I really hope I can start working there.
Hmm, dad actually suggested that I went to Singapore to work.
I really don't mind, it would be a new experience for me. But mum has her worries, haha.
In comparison to Jusco which is just nearby and she wouldn't worry so much.
Sighs, will see.
My weekdays are rather mutual:
wake up late or early.. eat what is needed for the day.. go online... or help mum with the house chores..or just go online..watch tv maybe.. do my workouts.. go online..... sleep late.
I know, I'm wasted.
I can't even go out! T_T
Now you know why I wanna start working ASAP?
Mm, I need the money anyways. Heh.
Hmm, I grabbed this from
Jason
.
I never knew that Malaysia had a mamak called, "
Friendster
".
LAWL.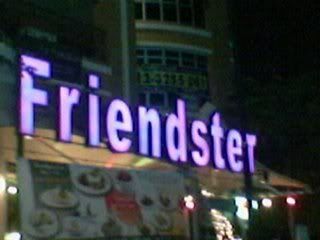 My weekends would be having band practices, maybe walk around Jusco with my family which is like SO BORING, it's practically my second home.
Church the next day followed by Mighty Kids till we leave which would be about 5PM or so... fetch my so-called-adopted-brother, Carl, back home and
then maybe.. walk in friggin Jusco again.
Please, tukar tempat lar...
please lar
.
Haih... I think I'm prepared for life in
Singapore
.
I
think
I am.
Parents are still
not really
up to the idea of me being a nurse. Sighs.
I'll leave you with a pic of me and Carl.
He's adorable but can be a little mischievous.
He's half Aussie and half Iban, hee.. cute.
Lord,
please lead me where You want me to go.
With so many opportunities and choices, shut the doors that are not meant for me but leave me the door that You want me to walk through open.
Lead and guide me to the path You want me to take.
Let Your will be done.
Amen.